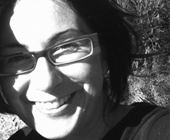 Em considero una persona creativa i multidisciplinar, ja que tinc facilitat per adaptar-me a les diferents exigències d'un projecte, ja
sigui de imatge corporativa, packaging, disseny editorial, il·lustració, gràfica publicitària o web.
Llicenciada en Belles Arts (UB), Graduada Superior en Disseny Gràfic (Elissava-UPF) i Màster en Direcció d'Art en Publicitat (Blanquerna-URLL).
He treballat en estudis de disseny gràfic i agències de publicitat aconseguint una sòlida experiència professional de més de 12 anys en el sector de la
comunicació gràfica. Actualment continuo aquesta trajectòria com a freelance amb el meu pròpi estudi.
Me considero una persona creativa y multidisciplinar, ya que tengo facilidad para adaptarme a las diferentes exigencias de un proyecto, ya sea de imagen corporativa, packaging, diseño editorial, ilustración, gráfica publicitaria o web.
Licenciada en Bellas Artes (UB), Graduada Superior en Diseño Gráfico (Elissava-UPF) y Máster en Dirección de Arte en Publicidad (Blanquerna-URLL).
He trabajado en estudios de diseño gráfico y agencias de publicidad consiguiendo una sólida experiencia profesional de más de 12 años en el sector de la comunicación gráfica. Actualmente sigo esta trayectoria como freelance con mi propio estudio.
I consider myself a creative person, multidisciplinary, as I easily adapt myself to the different requirements of a project, whether corporate image, packaging, editorial design, illustration, graphic or web advertising.
Bachelor of Fine Arts (UB), Higher Degree in Graphic Design (Elissava-UPF) and Master in Art Direction in Advertising (Blanquerna URLL).
I have worked in graphic design studios and advertising agencies getting a solid experience of over 12 years in the field of graphic communication. Today I continue this career as a freelancer with my own studio.